And welcome back to another week and another new episode of House! Let's get on with it, shall we?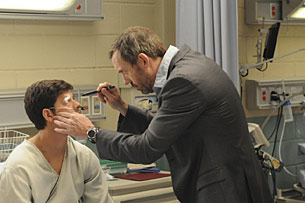 According to the press release (provided by
House MD Guide
),
The team takes on the case of an ailing groom-to-be who harbors undisclosed secrets from a previous relationship. As his fiancée (guest star Eva Amurri) tries to get answers to her many questions, a frustrated team winnows down the possibilities. Meanwhile, House spends extra-curricular time with his Princeton Plainsboro colleagues, performing a karaoke rendition of a Gladys Knight & The Pips classic with Foreman and Chase in the all-new "The Choice" episode of HOUSE.
CAUTION: From this point on, there are potential spoilers. Consider this the medical warning on pill bottles.
Pre-credit teaser
Oh, how nice! A wedding! And the groom chokes at the alter ... or asphyxiates.
Act 1
Hungover and House accidentally woke up in the bed of the neighbor's kid?!
Oh, and that CAN'T be good!
And the hubby was gay?!

Act 2
Oh, House, you are such a trickster.

Act 3
Hey, this isn't The Lion King. No hakuna matata.

Act 4
You incited a bidding war with Taub, House? ... *sigh*
A shot over magazines? Really?
Ha ha! Karaoke! Nice!
LACTATING?!?!

Act 5
Oh, I thought you were going to drink that, House.

Ending tag
And the engagement is off. How sad ... :(

Until next week, you scruffy pill-poppers!