And welcome back to another week and another new episode of House! Let's get on with it, shall we?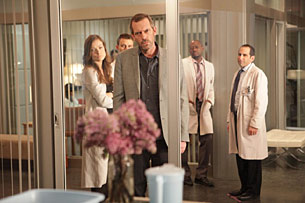 House and the team take on the case of a woman Julia (guest star Callies), who is in an open marriage and becomes ill during a date with her on-the-side boyfriend. As perplexing as the case is, Julia's happy and healthy, yet polygamous relationship is equally baffling to the team. Meanwhile, House tests Wilson's relationship with Sam (guest star Watros) in the all-new "Open and Shut" episode of HOUSE.
CAUTION: From this point on, there are potential spoilers. Consider this the medical warning on pill bottles.
Pre-credit teaser
Wait, her hubby is here?! ... Oh!
Act 1
But Taub, unicorns are adorable to some. Perhaps it's because they look like ponies or horses.
Uh oh ... Taub, you having marital issues?
Oh, look! It's Sarah from
Prison Break
!
Barium enemas? Haven't had a barium enema, but I have had a barium shake/drink once. It was ages ago.
Act 2
And here goes Taub's marriage?
Act 3
And Wilson's getting pick- ... HOUSE!
Oh, and NOW they're fighting! Christ! House, see what you've done?
Act 4
And House did it ... kinda.
Taub's wife is consenting to the open marriage!?
Act 5
So, House still wants something with Cuddy?
Ending tag
Both couples got what they wanted. How touching! ... Except for maybe Taub.
Until next week, you scruffy pill-poppers!